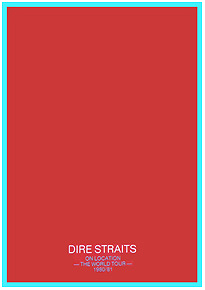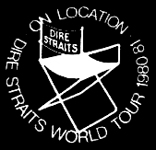 Tour line-up:
Mark Knopfler

Guitar, vocals
John Illsley

Bass, vocals

Pick Withers

Drums

Hal Lindes

Guitar, vocals

Alan Clark

Keyboards / piano

On 17th October 1980, Dire Straits released their third album Making movies. During the recording of the album, David Knopfler left the band. For the upcoming tour, two new band members were added: Hal Lindes and Alan Clark. They rehearsed between 8th September and 14th October at Whood Wharf (Greenwich, London) and the Roxy Theatre (London) to start their world tour a few days later. Roy Bittan appeared as a guest player on the second night in Los Angeles.

Late at night on 8th December 1980, John Lennon was shot dead. From then on Mark dedicated the song News to him. I also read on Facebook that Dire Straits actually played Imagine in Newcastle after the assassination.

Click here for a nice picture of Mark Knopfler during a soundcheck of the tour.

In January 1981, Dire Straits would play in The Netherlands and Belgium. Sadly, all 8 shows in The Netherlands and 4 shows in Belgium were cancelled due to the situation of Pick Withers' wife who gave birth to their baby too early. See these various Dutch newpaper articles (1, 2, 3) and also a poster of the cancelled concert in Nijmegen. Only half of the shows could be re scheduled in June and July.
Advertisement poster for the tour: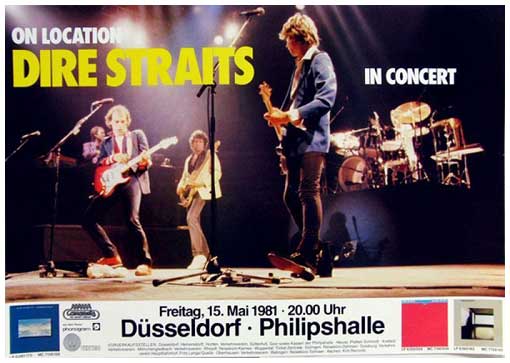 Official recordings made during this tour



| | | |
| --- | --- | --- |
| Concert | Bootleg release | Official release |
| Dortmund (19.12.1980) | | |
| Paris (18.06.1981) | | |
| Brussels (05.07.1981) | | |


► Total concerts played: 114



October 1980



22.10.1980 Commodore Vancouver USA


23.10.1980 Showbox Seattle USA


24.10.1980 State University Portland USA


26.10.1980 Old Waldorf San Francisco USA


27.10.1980 Old Waldorf San Francisco USA


28.10.1980 Roxy Los Angeles USA


29.10.1980 Roxy Los Angeles USA



November 1980



02.11.1980 Agora Dallas USA


03.11.1980 Armadillo Austin USA


04.11.1980 Agora Houston USA


05.11.1980 Saenger Performing Arts Center New Orleans USA


06.11.1980 State University Cleveland USA


07.11.1980 Brothers Music Hall Birmingham USA


08.11.1980 The Agora Ballroom Atlanta USA


09.11.1980 Exit Inn Nashville USA


11.11.1980 Bayou Washington USA


12.11.1980 Emerald City Philadelphia USA


13.11.1980 Stage West Hartford USA


14.11.1980 Beacon Theatre New York USA


15.11.1980 Capitol Theatre Passaic USA


16.11.1980 Berklee Performance Centre Boston USA


18.11.1980 Agora Cleveland USA


19.11.1980 Royal Oak Detroit USA


20.11.1980 Park West Chicago USA


21.11.1980 Park West Chicago USA


23.11.1980 Massey Hall Toronto Canada



December 1980



01.12.1980 Victoria Hall Hanley UK


02.12.1980 Apollo Manchester UK


03.12.1980 Apollo Manchester UK


04.12.1980 City Hall Sheffield UK


05.12.1980 City Hall Sheffield UK


06.12.1980 Apollo Glasgow Scotland


07.12.1980 The Capitol Aberdeen Scotland


08.12.1980 Playhouse Edinburg Scotland


09.12.1980 City Hall Newcastle UK


10.12.1980 City Hall Newcastle UK


12.12.1980 University Lancaster UK


13.12.1980 University Leeds UK


14.12.1980 Odeon Birmingham UK


15.12.1980 Odeon Birmingham UK


16.12.1980 Assembly Rooms Derby UK


17.12.1980 Gaumont Theatre Ipswitch UK


18.12.1980 Gaumont Theatre Southampton UK


19.12.1980 Rockpop, Westfahlenhalle Dortmund Germany


20.12.1980 Westfahlenhalle Dortmund Germany


22.12.1980 Rainbow Theatre London UK


23.12.1980 Rainbow Theatre London UK


24.12.1980 Rainbow Theatre London UK



January 1981



01.01.1981 Stadium Dublin Ireland


02.01.1981 City Hall Cork Ireland


03.01.1981 Leisureland Galway Ireland


05.01.1981 Ulster Hall Belfast Northern Ireland


06.01.1981 Ulster Hall Belfast Northern Ireland



March 1981



22.03.1981 Entertainment Centre Perth Australia


25.03.1981 Palais Theatre Melbourne Australia


26.03.1981 Palais Theatre Melbourne Australia


27.03.1981 Palais Theatre Melbourne Australia


28.03.1981 Palais Theatre Melbourne Australia


29.03.1981 Palais Theatre Melbourne Australia


30.03.1981 Festival Theatre Adelaide Australia


31.03.1981 Festival Theatre Adelaide Australia



April 1981



01.04.1981 Festival Theatre Adelaide Australia


02.04.1981 Festival Theatre Adelaide Australia


04.04.1981 Regent Theatre Sydney Australia


05.04.1981 Regent Theatre Sydney Australia


06.04.1981 Regent Theatre Sydney Australia


07.04.1981 Regent Theatre Sydney Australia


08.04.1981 Regent Theatre Sydney Australia


09.04.1981 Regent Theatre Sydney Australia


10.04.1981 Festival Hall Brisbane Australia


11.04.1981 Festival Hall Brisbane Australia


15.04.1981 Western Springs Auckland New Zealand



May 1981



05.05.1981 Rhein-Main-Halle Wiesbaden Germany


06.05.1981 Rhein-Main-Halle Wiesbaden Germany


07.05.1981 Rhein-Neckar-Halle Heidelberg Germany


08.05.1981 Freiheitshalle Hof Germany


09.05.1981 Hemmerleinhalle Nürnberg Germany


10.05.1981 Tauber Franken Halle Würzburg Germany


12.05.1981 Olympiahalle Munich Germany


13.05.1981 Messehalle Stuttgart Germany


14.05.1981 Sporthalle Cologne Germany


15.05.1981 Philipshalle Dusseldorf Germany


16.05.1981 Grugahalle Essen Germany


18.05.1981 Eissporthalle Kassel Germany


19.05.1981 Niedersachsenhalle Hanover Germany


20.05.1981 Eissporthalle Berlin Germany


21.05.1981 CCH Hamburg Germany


22.05.1981 CCH Hamburg Germany


24.05.1981 Randershalle Randers Denmark


25.05.1981 Forum Copenhagen Denmark


26.05.1981 Gröna Lund Stockholm Sweden


28.05.1981 Drammenhalle Oslo Norway


29.05.1981 Scandinavium Gothenburg Sweden


31.05.1981 UKK Hall Helsinki Finland



June 1981



01.06.1981 Ukki Hall Helsinki Finland


13.06.1981 Rodahal Kerkrade The Netherlands


14.06.1981 Jaap Edenhal Amsterdam The Netherlands


15.06.1981 De Doelen Rotterdam The Netherlands


16.06.1981 Rijnhal Arnhem The Netherlands


17.06.1981 Palais des Sports Paris France


18.06.1981 Palais des Sports Paris France


20.06.1981 Hallenstadion Zürich Switserland


21.06.1981 Patinoire des Vernets Geneva Switserland


23.06.1981 Palais des Sports Bordeaux France


25.06.1981 Palais des Sports Lyon France


26.06.1981 Théâtre Antique Orange France


27.06.1981 Stadio Comunale San Remo Italy


28.06.1981 Stadio Comunale Carrara Italy


29.06.1981 Vigorelli Milan Italy


30.06.1981 Anstistadio Bologna Italy



July 1981



01.07.1981 Stadio Comunale Turin Italy


04.07.1981 Festival Torhout Belgium


05.07.1981 Werchter Festival Brussels Belgium


06.07.1981 Centre Sportif Differdange Luxembourg